Definition
Endocrine speciality is a branch of medicine that specialize in the study and management of glandular, hormonal and metabolic disorders.
Plain English
We treat patients dealing with diabetes, thyroid, parathyroid adrenal, bone and mineral metabolism and gonadal disorders. Our passionate staff strives to make patient's lives easier through education and practical medical care.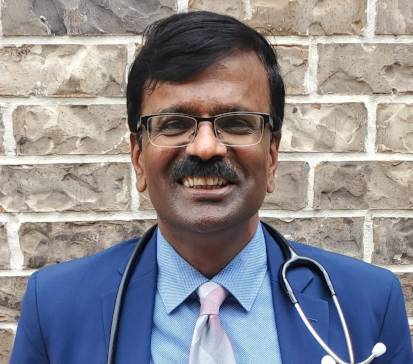 Dr. Kandaswamy Jayaraj
MD | FACE | MRCP(UK)
Dr. Jayaraj earned his medical degree at Stanley Medical School in Madras, India and received further training in the United Kingdom and the United States. He finished his Internal Medicine Residency training at St. Louis University and Endocrinology fellowship at Duke University Medical Center in Durham, North Carolina. He had been a Staff Endocrinologist at Ochsner Clinic in New Orleans for 2 years prior to his relocation to Beaumont, Texas.

He is board-certified in Internal Medicine, Endocrinology and Geriatric Medicine. Dr. Jayaraj is also a Member of the Royal Colleges of the United Kingdom since 1994. He has been in Beaumont since 2003 and affiliated with St. Elizabeth and Memorial Hermann Baptist Hospitals. His special interests apart from general endocrinology include diabetes and metabolic disorders, thyroid nodules, thyroid disorders, insulin pump therapy, lipid disorders and male hypogonadism.

He is certified and has extensive experience in thyroid ultrasound, fine needle aspiration biopsy of thyroid for thyroid nodules, and interpretation of bone density for osteoporosis. He is licensed to treat with radioactive iodine for hyperthyroidism in the State of Texas. His other interests include clinical research and teaching in diabetes, osteoporosis and lipid disorders.
Read More ›
Jennifer East
RN | FNP-C
Jennifer East is a Certified Family Nurse Practitioner since 2005 and worked with Dr. Jayaraj since 2006. She graduated with her Bachelor of Science in Nursing from Lamar University in 2001 and obtained her Master of Science in Nursing from the University of Texas Medical Branch in 2006. Jennifer has worked for Dr. Jayaraj at Triangle Endocrinology since 2006 where she manages all adult endocrine disorders including the management of both Type 1 and Type 2 Diabetes.

Mrs. East is certified as an insulin pump trainer and has led group diabetes education classes in the office. She is a member of the American Diabetes Association, American Association of Diabetes Educators, Texas Nurse Practitioners, The American Association of Nurse Practitioners, and Southeast Texas Nurse Practitioners. She was on the board of Southeast Texas Nurse Practitioners from 2013-2014 and was the President for 2 terms from 2014-2016. She was also on the board of Texas Nurse Practitioners from 2014-2016 as a Regional Representative. Mrs. East received the Nurse Practitioner of the Year Award in 2015 from Southeast Texas Nurse Practitioners. She also received the UTMB School of Nursing Leadership Award for Community Service.

Mrs. East has volunteered to teach Nurse Practitioner students as a specialty preceptor for the past 10 years and has had countless students gain endocrine experience through these rotations. She also has a passion for volunteering for medical missions both locally and internationally. Some of her volunteer work outside of the community has been in Mexico, Nicaragua, and Brownsville, Texas, and most recently in Haiti where she was part of a team who served residents in the rural, mountainous community of Marmalade who have no access to any medical care.
Read More ›
Stacie Williams
RN | FNP-C
Stacie Williams is a board certified Family Nurse Practitioner with the American Academy of Nurse Practitioners and Advanced Practice Registered Nurse. She obtained her Master of Science in Nursing with specialization in Family Nurse Practitioner from Walden University in 2016 and her Bachelor of Science in Nursing from Lamar University in 2011. Prior to joining Dr. Jayaraj at Triangle Endocrinology in 2018, Ms. Williams practiced as a Family Nurse Practitioner in primary and minor care; she spent most of her career as a registered nurse in critical care.

Ms. Williams is a member of the American Academy of Nurse Practitioners, Texas Nurse Practitioners, and Southeast Texas Nurse Practitioners. She is also a member of the National Society of Leadership and Success, as well as Sigma Theta Tau International Honor Society. As a native of the Golden Triangle, Ms. Williams dedicates her free time to volunteering with local organizations, including Relay for Life, Julie Roger's Gift of Life program, American Red Cross Beaumont Chapter, and the Catholic Charities Hospitality Center of Port Arthur. She has also volunteered as a counselor for the Muscular Dystrophy Association's summer camp, which allows children with muscular dystrophy and other related disorders the opportunity to experience the fun and excitement of summer camp without limitations from their medical conditions.
Read More ›
Dr. Jennifer Simmons
PhD | RD | LD
Dr. Jennifer Simmons earned her Bachelor of Science and Master of Science degrees at Lamar University in Beaumont, Texas. For her graduate thesis project, she conducted research on "Nutrition Knowledge and Practices of Individuals with Osteogenesis Imperfecta." She went on to earn her Doctor of Philosophy degree with a major in Nutrition at Texas Woman's University in Houston, TX, after completing her dissertation entitled, "Estimation of Vitamin D and Calcium Intake in the United States and Associations with Cardiovascular Risk Factors and Adiposity Measures by Age, Sex, Parental Poverty Income Ratio, and Race/Ethnicity in Children and Adolescents 6-18 Years." Her dissertation has since been published.

She became a Registered Dietitian following her internship at Lamar University and has been a Licensed Dietitian /Nutritionist in the state of Texas since 2011. She is also a member of the American Dietetic Association and is a preceptor for the Lamar University Dietetic Interns. Her work experiences include food service, long-term care, teaching, and all aspects of nutrition education.
Read More ›
Helpful Articles
Follow us on Facebook to stay up to date with all our helpful tips and tricks to living a healthy life.